I'm not a boomer. I'm barely not a millennial, having come into this world at the end of GenX, actually. But I thought it was a catchy title.
A few weeks ago, I dove back into VR after initially deciding it wasn't for me last summer. And I'm having fun exploring.
For ten weeks earlier this year, I went through an AR and VR development course with Unity and as I moved from headset to code and back in order to test and troubleshoot, I felt very yuck. So I concluded I didn't like VR and it wasn't going to work.
I recently decided to give it another shot. I just wrapped up writing a business case for Web3 at work and I've started joining some broader team calls in the metaverse. I felt like if I was going to try to convince others we need to be spending time in these spaces, that I needed to get comfortable there myself.
My first metaverse call was joyful and humbling (I joined from my laptop). Having not spent a ton of time in gaming worlds, I found navigation around the space jarring at first. I was learning a new platform live, while my coworkers were hosting a meeting at the same time. I felt a bit vulnerable.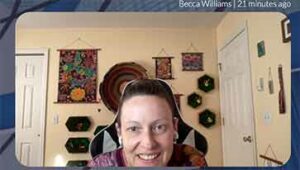 I couldn't help but be amused by accidentally taking a selfie from the platform. Not just real life, folks. Who knew?
I quickly got past that feeling, though, and got excited to play.

For one of the next calls in the metaverse, I wanted to test out wearing a headset. I didn't give myself enough time to figure out how to get there, so I showed up late and with no headset. (It didn't turn out to be that hard, but it did require a few minutes of research and trials. I eventually figured out how to get to the Meta Quest browser from the headset, go to the metaverse meeting url, enter my code, and voila.)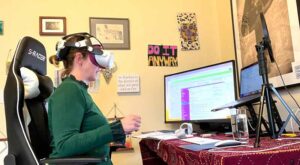 While some of these technologies are fairly new, there are plenty of people who have been in this space for a long time. And that makes it a bit more intimidating to learn as a forty-something, but I'm doing it anyway. And I'll approach it from a "learning out loud" perspective.