AR/VR/Real Estate Upskilling
Note, this post originally appeared on my Thought Distillery site in May of 2022.
I invested in extensive time for some major upskilling last summer. I completed schooling and exam requirements to secure my real estate broker's license here in Colorado as well as a 10-week extended reality (augmented and virtual reality) development course with Unity. Why these two things? And why simultaneously? Interesting things happen at the intersections and it all comes together in the Metaverse, which I see as a possible future.
Relatedly, I was exploring the process of NFT creation.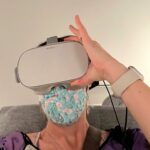 This is a space I've been watching for a while; blockchain for about seven years, Metaverse, augmented reality, and NFTs for a year and a half. I only recently put on a VR headset for the first time, and have since invested in one as part of my XR Dev course.
My kids have been immersed in this stuff, so I've been studying that, too. Every birthday or holiday, asking for Robux, V-Bucks, and Minecraft gift cards, me being too embarrassed to even calculate how much we've spent in games customizing avatars in all the ways. My oldest started dabbling in Unity a few months ago, and now we're in an informal race to build skills. Or at least I'm trying to get him to participate in a friendly competition. 🙂
These skills mean I remain relevant as a product management and strategy consultant and part of the conversation. As entirely new worlds are built, we need to be very careful about further perpetuating existing inequities and systems of oppression. That means more women, BIPOC, LGBTQIA2S+, disabled, neurodiverse, and aging individuals must become part of that build process.
So, here I am, learning out in the open.
My First NFT
I had this grand plan for the last couple of months to mint my first NFT before The Power of WE (Women Entrepreneurs) conference where I'd be leading an afternoon workshop. I was going to launch the NFT in augmented reality through Illust.Space outside of the conference venue, and wear various forms of the seamless pattern I created as a conversation starter. Thanks to a fantastic intro-level workshop I attended with SearchLight in March, this felt doable, or at least worth attempting. Spoiler alert: it didn't happen before the conference.
Process
I officially began about a month ago. I imported a couple of photographs I made into Procreate on my iPad Pro and started tracing and doodling. I ended up with a result I was pleased with.
I ordered some custom-designed journals with the pattern on the outside cover and the two source photographs on the inside with the intention I'd pass these out to my workshop participants. I ordered custom wallpaper to cover personal handmade books, custom-printed vegan leather I'd make jewelry with, and a custom-printed silk scarf that would serve as a belt.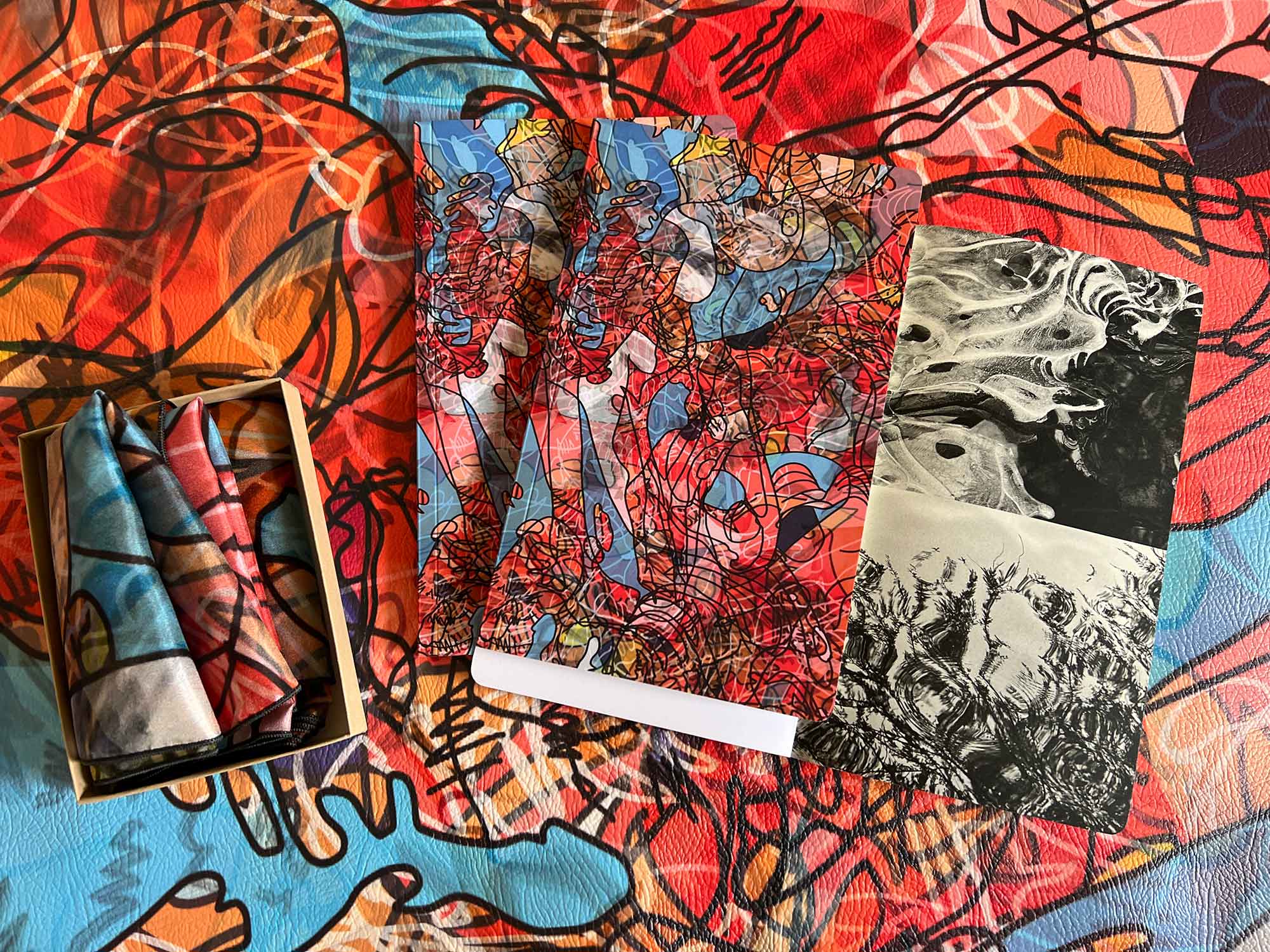 The next week, I started reviewing instructions on OpenSea and went to create a MetaMask wallet, but panicked at the permissions that the Chrome plugin required. I decided to hit pause on that and order a cold (hardware) wallet from Ledger (cold wallets are more secure). This took another week and a half or so to arrive to my small rural Colorado town from overseas. I plugged it in to my laptop and nervously started the installation process. My next blocker in the process was how in the world do I actually buy crypto? I'm sure this is all way faster, easier, and less intimidating to people who already have a crypto wallet set up with something in it. This seems to be the baseline. That was not me.
I went into Ledger Live and decided I was willing to try to buy crypto there. I started creating an account in platform with one of their payment partners. I panicked again at the identity verification step and walked away for a while. Did some research – is this legit? Is this safe? Why do I have to upload a form of my government-issued ID? Why do I have to share my social security number? This goes against everything I know about keeping myself safe online. Research. Research. Research.
I decided to move forward with ID verification. I added credit card info. The platform indicated this number was likely to be declined. Turns out, my credit card didn't like crypto. Probably would have cost me a cash advance fee, so it wasn't terrible this method didn't work. Next, I tried adding debit card info. Declined. We love, love, love having relationships with our local community bank, but they don't like crypto either. I tried another in-platform payment partner with ACH. Said local bank is not available through Plaid, so this was another dead end.
More research. PayPal and Coinbase! That would be the ticket. I create a new PayPal account. I link our bank account. I wait a few days for trial deposits. I create a Coinbase account. When I try to buy ETH with PayPal using the bank account, I get DECLINED again. More research.
PayPal Balance looks like the solution, but I can't find it anywhere in the PayPal UI or any evidence of instructions on the interwebs. There was NO way to send money from myself to my own PayPal account. I send a payment request to my husband this time. And we complete the transaction (from the aforementioned bank account), suck it up and pay the $6.97 fee to transfer a small sum and then I can add it to my PayPal Balance. This was where I finally met success.
From here, I was able to use PayPal (my new balance) as the payment method on Coinbase for my first-ever crypto purchase of ETH. I bought $x of ETH, hoping that after all the fees for each part of the process, I'd have enough leftover for network fees on OpenSea. Minus $8.06 to Coinbase for that transaction.
My next step was to transfer from Coinbase to my Ledger wallet and then on to MetaMask or Coinbase to Coinbase Wallet to OpenSea. It didn't yet matter b/c I had to wait another seven days before I could send my newly purchased ETH out anywhere. Wait. Wait. Post a gut-check question in the crypto group of my favorite curated online community of bad-a- – women, Dreamers & Doers. Watch ETH balance decrease because of market volatility.
Friday arrives. ETH shows up as being available to transfer. Transfer $10 as a test to Coinbase Wallet. ETH shows up in wallet. This is promising.
Connect Coinbase Wallet to OpenSea account.
Show time!
I created an NFT Collection on OpenSea called Buenaverse. I uploaded the piece of art to become the NFT, Seamless Pattern: Red Bud Island x Bear Creek Canyon, and added it to the collection. I tried to list the NFT for sale. Not enough ETH in Coinbase Wallet to cover network fees. Transfer ETH. I did this three times ultimately before getting my first ever NFT listed for sale. WOOT.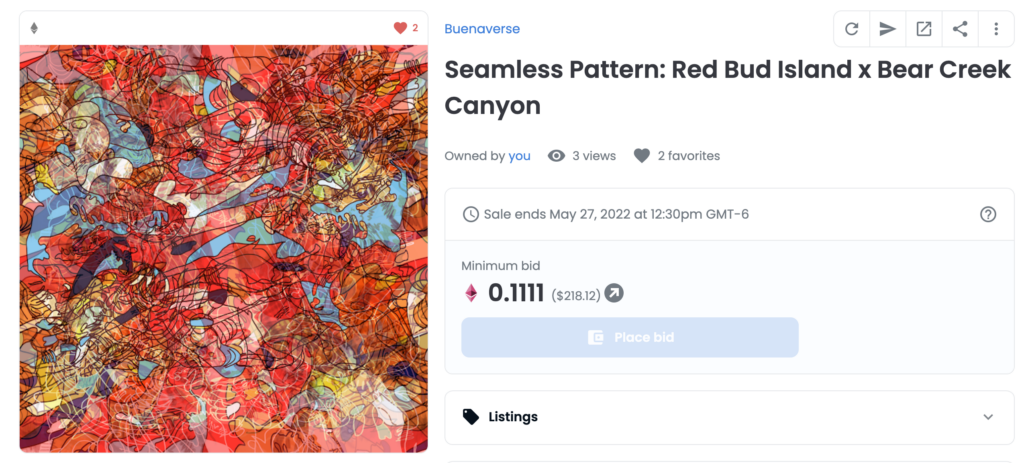 This was not so crypto beginner-friendly and with the panics along the way and pauses built in to various processes, ultimately took me several weeks to complete.
I've learned a ton, did the thing, and perhaps you, kind reader, will place a bid so I know this effort wasn't for nothing? Now that the first one is live, I'll add more to the collection over time.
Hopefully this documentation of my blunders saved you some time, if you are also considering selling NFTs, and/or just gave you some good old amusement.
See you in the Metaverse?
Header photo by Zoltan Tasi on Unsplash
Additional Learning
After I went through this process and published this post, I started to dig even deeper to see what resources are available, especially for women of Web3.
I found the following video from BFF particularly useful and accessible. It's well worth the two hours to learn all about blockchain, Web3, crypto, NFTs, Metaverse, and other related terms, as well as how to set up a crypto wallet with MetaMask, in a very consumable, conversational, and candid format.
BFF co-founder, Brit Morin, mentions during this event that only 6% of women in the US have purchased crypto, only 5% of NFT creators are female, and 4% of crypto entrepreneurs are female.
"BFF is an open-access community with a mission to help women and non-binary people get educated, connected, and empowered in web3."